Nourishing hair is the key issue in the entire treatment. There is nothing better for your strands than an appropriately matched oil that will perfectly regenerate and beautify your hair. Cleansing on its own, even with the help of a shampoo with many additional ingredients will not provide such good results. Therefore, you should reach for a product like Nature Moi hair conditioner with grape seed and red currant oil.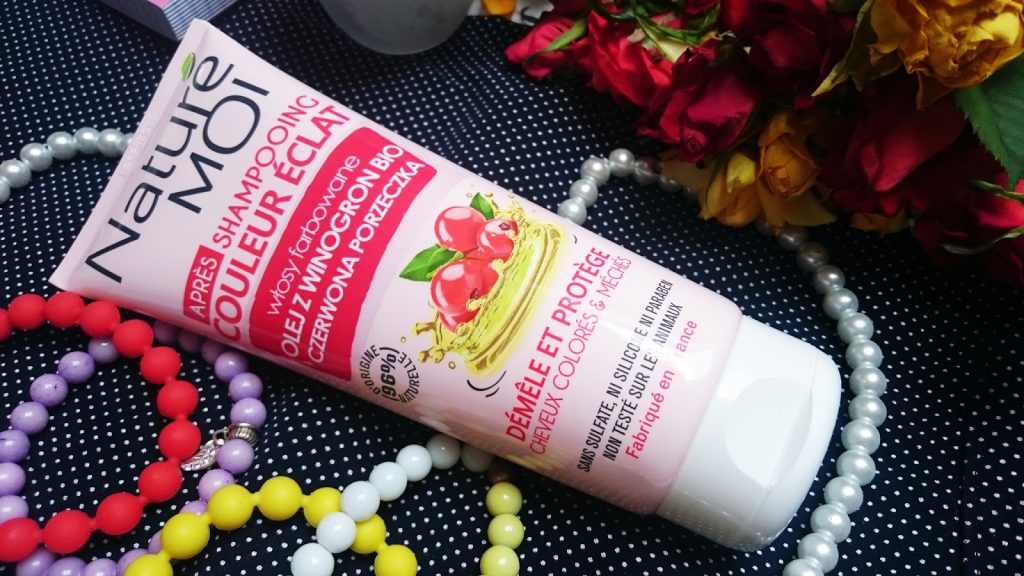 Grape seed oil is a source of many beneficial nutrients especially necessary for damaged hair. It contains vitamin complex, valuable minerals and a few EFAs – essential fatty acids. Which ones in particular? The majority of linolenic acid (70%), a bit less of oleic acid (16%) and traces of a few others. Therefore, grape seed oil is perfect for high porosity hair.
Why not to use this precious oil in a product designer for colour-treated hair? Nature Moi brand decided to do so. The producer combined grape seed oil with red currant extract. Such combination is the best remedy for colour-treated hair. The conditioner and shampoo are a perfect duo from the same line, used in the fight for beautiful hair.
It does not contain any silicons, parabens or SLS. It is worth mentioning that over 96% components of this product are natural ingredients. It is fully a biodegradable and organic conditioner.
How does Nature Moi hair conditioner work?
helps regenerate hair after colour-treating,
facilitates combing weakened hair,
protects the colour from fading,
adds shine, softness and smooths wisps,
improves moisture, nourishment and overall hair appearance.
Grape hair conditioner from Nature Moi restores shine and beauty from the roots to the ends. It seals raised cuticles due to dyeing or bleaching, making its structure even. In consequence, hair shines beautifully. It is all thanks to the amazing properties of grape seed oil that moisturises, regenerates an nourishes hair. The conditioner for colour-treated hair from Nature Moi has a nice, fruity scent. The smell lasts even after rinsing the product from hair. Wisps instantly become soft and beautiful.