Grape seed oil is a great alternative for intense and concentrated products for regeneration of damaged hair. What is about this oil that makes it so frequently used for hair oil treatment? We will take a closer look at it and check who can use grape seed oil on their hair.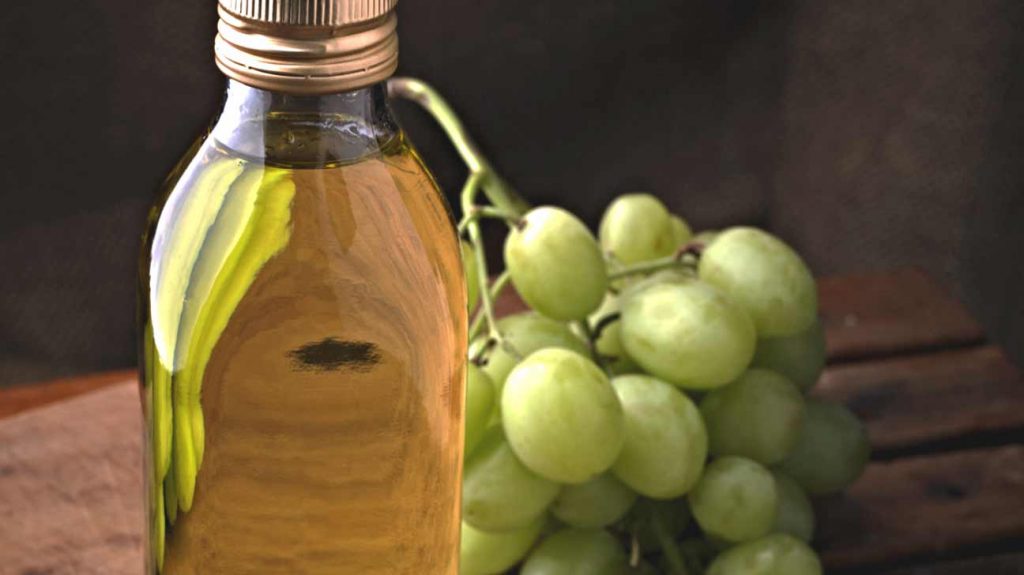 Deeply moisturises hair and makes them shiny. It restores health and provides softness. Does not cause oily scalp or weight hair down due to great absorption in the hair structure. Indicates antioxidant action (eliminates free radicals). Grape seed oil is believed to be one of greatest antioxidants. You may say that its properties are complex – nourishes, strengthens, regenerates and protects sensitive hair.
There comes a question… what hair type will like grape seed oil?
We should take a closer look at its composition, then everything will be clear, including for what hair grape seed oil is best. As every vegetable oil, this one also contains diversity of vitamins (including vitamin E), minerals and other valuable nourishing ingredients. The most important are fatty acids. On their amount depends for what hair type can grape seed oil be used.
Content of fatty acids in grape seed oil:
saturated fatty acids: 7% palmitic, 4% stearic,
monounsaturated fatty acids: 16% oleic acid,
polyunsaturated fatty acids: 70% linoleic acid, 3% linolenic acid.
Therefore, since grape seed oil contains more polyunsaturated fatty acids with the biggest particles and the greatest number of double binds between atoms, it will be perfect for high porosity hair. These hair require deep nourishment and regeneration. Fatty acids, vitamins and minerals in grape seed oil can help strengthen and repair damaged hair structure.
Grape seed oil is one of non drying oils, so it's perfect protective filter for sensitive hair. Damaged hair with raised cuticles become more subjected to impact of harmful factors and grape seed oil will protect hair as well as prevent worsening of their condition. This is why it can be used also on medium porosity hair that are prone to change their porosity into the high porosity.